There are some patients that have already undergone the Sleeve Gastrectomy procedure but after a given amount of time are not completely satisfied with their weight loss or the unsuccessful resolution of some of their medical conditions such as Type 2 Diabetes, hyperlipidemia, sleep apnea or hypertension.
Dr. Timothy Brown, M.D. is now offering a solution for this called The Sleeve Enhancement or the Duodenal Switch Surgery. You may have seen or heard it called the single-anastomosis duodenal switch (SADI-S) or stomach intestinal pylorus sparing surgery (SIPS).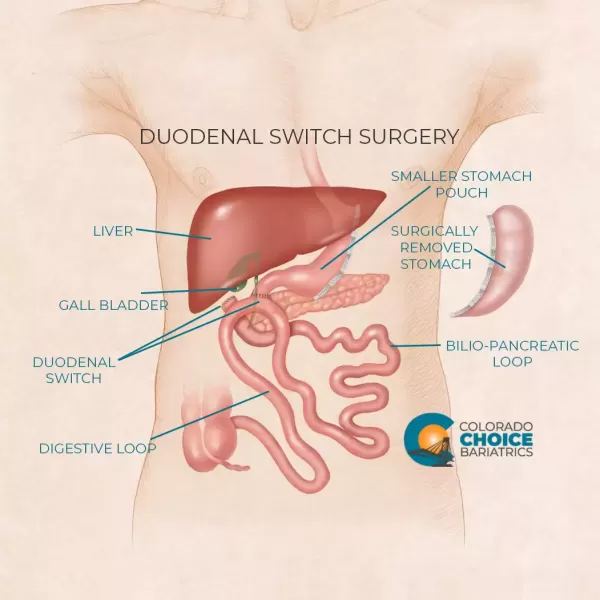 Two-Step Laparoscopic Procedure
Duodenal Switch Surgery is a highly effective weight loss surgery with a proven record of long-term weight loss success for our patients. This two-step laparoscopic procedure combines both a duodenal switch and a sleeve at the time of surgery. 
The first step is known as the vertical sleeve gastrectomy, or gastric sleeve, which reduces the size of the stomach to a thin strip. It's minimally invasive, using only four to five tiny incisions to remove 70% - 80% of the stomach. This restricts the amount of food that can be consumed in one sitting and allows the patient to feel fuller faster. 
For some weight-loss surgery patients of Dr. Timothy Brown, M.D., this alone is enough to achieve the desired results, but for those that don't the procedure can be followed up at a later date with a Duodenal Switch.
The second step is performed by dividing the upper portion of the duodenum and connecting two-thirds to three-fourths of the way downstream of the small bowel. 
The duodenal switch procedure reroutes food so that it bypasses a significant portion of the small bowel, preventing your body from absorbing as much fat and calories. This combination of two bariatric surgeries results in dramatic weight loss results—typically 80 to 85% of excess weight. 
Is Duodenal Switch Surgery Right For Me?
You may be a good candidate for loop duodenal switch (SADI-S or SIPS) surgery in Colorado if you:
Have a BMI > 40 or are interested in losing 80-100% of your excess body weight
Want your best chance of curing type II diabetes (up to 98%)
Be extremely dedicated to a life of vitamin and protein supplementation
It is only recommended for patients who need significant weight loss in a short amount of time.
Benefits of Duodenal Switch Surgery
Because the Duodenal Switch leaves patients with a larger stomach than gastric bypass, patients are able to enjoy more satisfying portion sizes than is possible with other bariatric surgeries. Because of the larger stomach sleeve, Duodenal Switch patients also have a reduced risk of vomiting.
Duodenal Switch Surgery is both a malabsorptive and restrictive surgery. Restrictive means that the stomach is reduced in size, which restricts the amount of food that you can eat. Malabsorptive surgeries reduce the amount of nutrients that your body absorbs, in this case by reducing the size of the small intestine. 
The combination of malabsorption and restriction makes Duodenal Switch Surgery, like other bariatric surgeries, extremely effective at enabling our patients to lose weight and keep it off.
Some benefits of this procedure include:
Rapid and significant weight loss
Can quickly resolve obesity-related health concerns
Higher average weight loss than Sleeve Gastrectomy, Gastric Bypass or Lap-Band
Better chance of controlling diabetes than Sleeve Gastrectomy, Gastric Bypass or Lap-Band
Does not have the ulcer risk of a Gastric Bypass
Unlike gastric bypass surgery, this procedure does not have a risk of dumping syndrome
Patients can expect to lose 60% to 80% of excess weight in the first 12-18 months after a duodenal switch operation
Surgery takes about an hour and a half and patients have a similar recovery to other bariatric procedures. Food enters the sleeve and is held there with the pylorus just like a sleeve. Because of this, dumping syndrome does not occur, unlike the gastric bypass.
Duodenal Switch Surgery (Sleeve Enhancement) Costs
The average cost of a Duodenal Switch Surgery (Sleeve Enhancement) with Dr. Timothy Brown, M.D. at the Arkansas Valley Surgery Center in Cañon City, Colorado is $4100. The cost includes anesthesia and surgeon's fees. 
$3000 Surgeon Fee
$900 Anesthesia
$250 1st Assistant
Facility Fee Will Be Determined in the Near Future 
Your insurance will usually cover Duodenal Switch Surgery (Sleeve Enhancement) if your policy covers bariatric surgery.