Problems arising from laparoscopic gastric bands are common, and Lap-Band removal is becoming more and more popular. Many studies have shown that more than half of the gastric bands are removed due to inadequate weight loss or serious complications after 7-10 years.
Placing a laparoscopic gastric band around the stomach is a safe method for weight loss, but complications sometimes do occur. These include:
band slippage
gastric erosion (where the stomach tissue is damaged because of the band pressure)
esophagitis (inflammation of the esophagus)
pouch dilation (spreading of the stomach behind the band restriction)
laparoscopic port complications (infection or positioning issues)
failure in significant weight loss
Due to the inadequate weight loss, weight regain, and high long-term complication rate, the use of the Lap-Band has sharply decreased. 
Because of these factors and complications, Dr. Timothy Brown, M.D. does not perform Lap-Band surgeries, but will remove them, including the port implanted under the skin next to the belly button that is used to inflate a balloon inside the band with saline.
Most Lap-Band and Port removal procedures can be done laparoscopically. If your initial gastric band surgery was performed laparoscopically (using 5 or 6 small incisions in your abdomen), it will likely be possible for your removal procedure to be performed laparoscopically as well.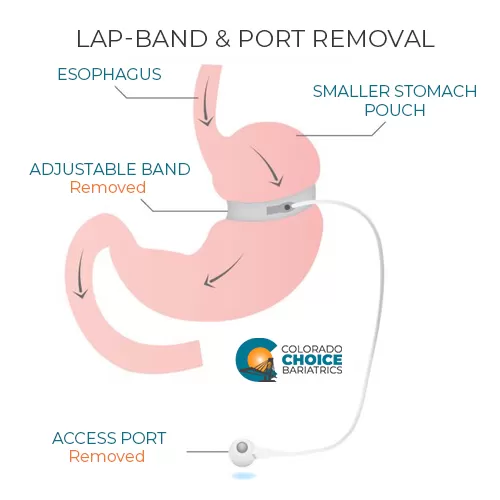 When Lap-Band Removal Is Appropriate
Inadequate weight loss


When a patient is losing less than 25% to 30% of their excess weight



Band erosion


occurs when the band actually grows into the stomach.



Band infection


If infection cannot be healed with antibiotics, Lap-Band removal may be necessary.



Band intolerance symptoms


Includes excessive nausea/vomiting or a continuous feeling of discomfort/pain.



Band slippage


This occurs when the lower part of the stomach "slips" up through the band, creating a bigger pouch above the band.



Difficulty swallowing


Also called "dysphagia" - esophageal dilais caused by eating too quickly, eating too much or not chewing food enough before swallowing.



Esophageal dysmotility and/or dilatation


As a result of the patient's gastric band, the esophagus is no longer able to effectively transport food from the mouth to the stomach. Symptoms may include difficulty swallowing, regurgitation of food and/or pain.



Gastroesophageal reflux disease (GERD)


This is a chronic condition resulting in episodes of gastroesophageal reflux, heartburn and potential damage to the esophagus.



Pouch dilation


This refers to the enlarging of the stomach pouch that forms above the band. It can often be fixed by removing fluid from the band but sometimes requires reoperation.



Port infection


This can occur in your abdomen at the port site. Lap-Band removal will be required if the problem is chronic or not able to be healed by antibiotics.
The removal procedure is likely to carry a similar risk of complications as the initial procedure; in other words, a relatively low risk.
Lap-Band Removal Costs
The average cost of a Lap-Band Removal with Dr. Timothy Brown, M.D. at the Arkansas Valley Surgery Center in Cañon City, Colorado is $4,448. The cost includes anesthesia, the facility fee and surgeon's fees.
$1500 Surgeon Fee
$2038 Surgical Center Fee
$910 Anesthesia
Your insurance will usually cover both removal and revision to another procedure if your policy covers bariatric surgery
Lap-Band to Laparoscopic Sleeve Gastrectomy Revision
For most patients, the stomach returns to its normal state following Lap-Band removal.  If your lap-band helped you develop good diet and exercise habits, and you are able to maintain them following its removal, you may be able to keep the weight off.
Unfortunately, the loss of your lap-band's stomach restriction usually leads to increased feelings of hunger.  As a result, most lap-band removal patients revert to their pre-surgery weight unless they decide to have a weight loss surgery revision procedure performed.
If you are on the fence and want to try to maintain your weight loss on your own, revision surgery can be performed as a two-step procedure: 
Procedure 1

: Your band is removed

Procedure 2

: Your revision to Laparoscopic Sleeve Gastrectomy is performed approximately 3 months after your lap-band removal
If you were not able to lose weight with the band or are not confident that you will be able to keep the weight off, you may want to consider revision surgery