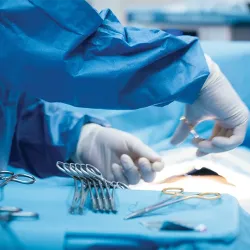 Many surgical procedures can be performed by Dr. Brown, M.D. using minimally-invasive techniques that can shorten recovery time and reduce pain and scarring. Sophisticated technologies allow surgeons to operate through tiny incisions resulting in easier healing and a return to daily life sooner.
From breast biopsy to gallstone removal to hernia repair, the right therapy can get you back on track. Our goal is to provide you with better surgical care that gets you back to what's important: living your life to the fullest. We work to support your mind, body, and spirit from the moment you walk through our doors. 
Outpatient Surgical Services
Below is a general listing of the outpatient surgeries we can accommodate. If you have a specific question about a procedure, we invite you to contact us for more details. Before your surgery, you may be required to complete some lab work, perhaps have an X-ray, follow a special diet, shower with a special soap, or complete other certain protocols. Your surgical coordinator will provide you with precise details about what time to arrive at the hospital on the day of surgery.
The majority of surgeries performed are same-day surgery or limited-stay procedures. This enables a person having outpatient surgery to be admitted in the morning, undergo the procedure, and return home the same day.
Dr. Brown, M.D. works closely with referring physicians to coordinate care and practice in multiple locations to conveniently serve patients. Our practice offers a wide spectrum of general surgery, colorectal surgery and endoscopic procedures.
Skin and Soft Tissue Surgery
Skin and soft tissue diseases are infections that involve the outer layers of the skin and soft tissues located beneath it. Dr. Brown, M.D. can perform soft tissue mass removal including excision of skin lesions (cancer & non-cancer) such as cellulitis, abscess, skin cancer, lipoma, cysts, and tumors (both benign and malignant).


Gastrointestinal Surgery
An upper GI endoscopy or Esophagogastroduodenoscopy (EGD) is a procedure to diagnose and treat problems in your upper gastrointestinal (GI) tract. The endoscope allows the surgeon to view the inside of this area of the body, as well as to insert instruments through a scope for the removal of a sample of tissue for biopsy (if necessary). 


Colonoscopy
Colon surgery (including surgery for colon cancer & diverticulitis/diverticulosis) is an endoscopic test that allows us to look into your large intestine and rectum to look for ulcers, precancerous polyps or other causes of cancer.


Gallbladder Surgery
Laparoscopic cholecystectomy (LC) is the optimal treatment for symptomatic gallstone disease. Same-day discharge following LC is associated with fewer complications and increased patient satisfaction, as well as savings in health care costs.


Appendectomy
Appendicitis is treated by surgical removal of the appendix (called a laparoscopic appendectomy) It is important to perform this surgery before the appendix ruptures.


Breast Surgery
Treatment of breast masses (cancer & non-cancer) including Lumpectomy which is a removal of a cancerous tumor and a small amount of surrounding breast tissue. This is also called breast-conserving surgery (BCS) or partial mastectomy.


Hernia Repair
A hernia occurs when an organ protrudes through the wall of muscle that encircles it. There are several different types of hernias that can occur in the abdominal and surrounding areas to include umbilical hernias, epigastric hernias, incisional hernias, and others.


Rectal Surgery
Patients benefit from our experience and expertise in performing the full spectrum of highly specialized abdominal, anorectal and endoscopic procedures for the treatment of rectal disease (hemorrhoids, anal fistula, fissures, rectum prolapse, rectocele). 


Carpal tunnel release
Carpal tunnel release is surgery to treat carpal tunnel syndrome. Carpal tunnel syndrome is numbness, tingling, weakness, and other problems in your hand because of pressure on the median nerve in your wrist. This nerve runs through the carpal tunnel, which is found in your wrist.
Undergoing any surgery (even the most routine) can be stressful and scary for most people. Patients undergoing minimally invasive repairs usually benefit from an easier recovery, shorter return to work and normal activity, as compared to open surgical repair.
We're by your side to help you navigate your care journey and we're committed to caring for your mind, body and spirit along the way. From the moment you enter our state-of-the-art facilities and meet our friendly, caring staff, you'll know you and your doctor have made the right choice. Same-day surgery is all we do at our practice. Our facilities, equipment, and specially trained staff make it as safe, comfortable, and efficient as possible.